Strathburn Boars
By Brad Smith
Published in "Big Game Australia" - November 2011
Click any thumbnail for a slide show of all enlargements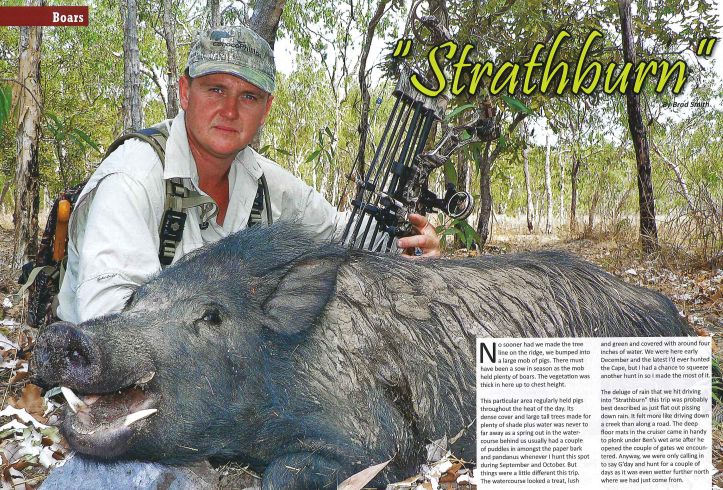 NO SOONER had we made the tree line on the ridge, we bumped into a large mob of pigs. There must have been a sow in season as the mob held plenty of boars. The vegetation was thick in here up to chest height.
This particular area regularly held pigs throughout the heat of the day. Its dense cover and large tall trees made for plenty of shade plus water was never to far away as a spring out in the water-course behind us usually had a couple of puddles in amongst the paper bark and pundanus whenever I hunt this spot during September and October. But things were a little different this trip. The watercourse looked a treat, lush and green and covered with around four inches of water. We were here early December and the latest I'd ever hunted in the Cape, but I had a chance to squeeze another hunt in so I made the most of it.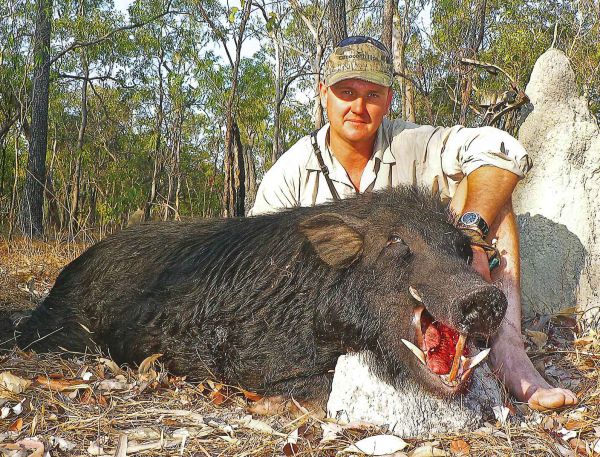 The deluge of rain that we hit driving into "Strathburn" this trip was probably best described as just flat out pissing down rain. It felt more like driving down a creek than along a road. The deep floor mats in the cruiser came in handy to plonk under Ben's wet arse after he opened the couple of water wet encountered. Anyway, we were only calling in to say G'day and hunt for a couple of days as it was even wetter further north where we had just come from.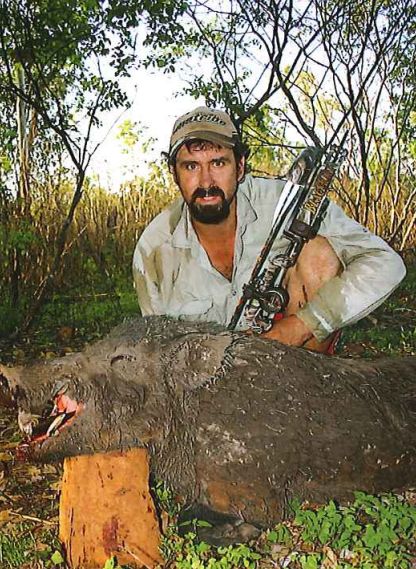 We hunted a couple of creeks, and they were full of water, which was no surprise. It took us a few hours to make it to one of these creeks on the southern side of the property as we checked out a few water holes on the way. I was hoping they may have had a little less rain and missed some of the storms, as this creek had been a hot spot in the past. We saw pigs on the way but nothing of any size. And to our disappointment, the creek was flowing and the grass was still long. Only two boars were sighted and to make things worse, the wind was cruel and blew our limited chances.
Anyhow, back to the boars in this large mob of pigs we'd just bumped in this tree line. One by one they got to their feet and slipped back deeper into the shaded cover of this ridge. It was my turn for this long awaited next shot but I couldn't get a clear shot at any of them and even put another boar up in the shade once I thought all the others had gone.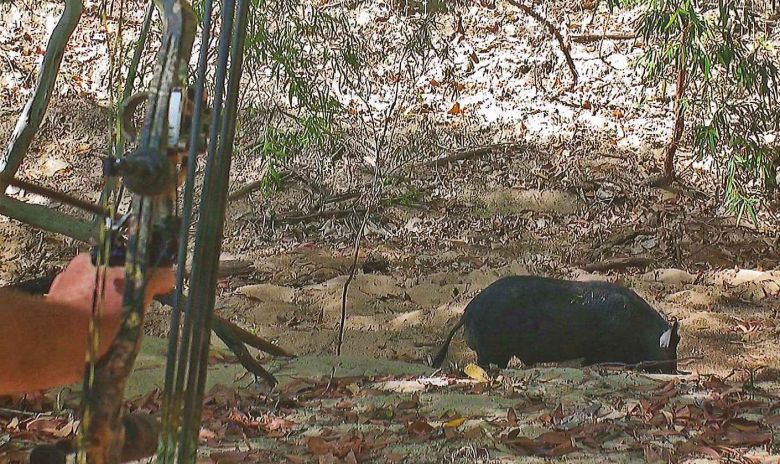 Ben and I then slowly followed in the direction of the pigs squealing and fighting. It was slow going. Weeds were over waist high and pretty noisy. We could hear boars fighting every now and then within sixty yards of us, but our visibility was half that. I wasted a bit of time and made a good stalk and got to twelve yards of a log that looked like a sleeping boar. Even with good optics through the thick weed, the bark and termites fooled me for bristles and mud.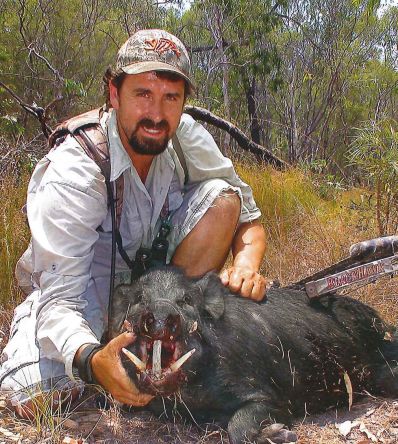 The next shape I spotted was definitely a bedded pig as I could see its ear flicker. Luckily it was a boar and he was lying in a sandy bed he had nosed out under a shady tree thirty yards away. Somehow I managed to halve the distance undetected until I could get a clear shot. I think having a few pigs milling around making noise helped me closing the gap as it wasn't the quietest stalk I've made.
The boar was laying facing away from us, so I placed the arrow in behind the last rib and angled in towards his chest. He never regained his feet and as he gave a few last kicks, he drew the attention of another unseen boar. Which in turn wandered over to find out what this boars problem was, and as he stopped to investigate his mate, I slipped an arrow through his shoulders as-well. He tore off flicking sand and leaves everywhere before blacking out and piling up thirty yards from where he was hit.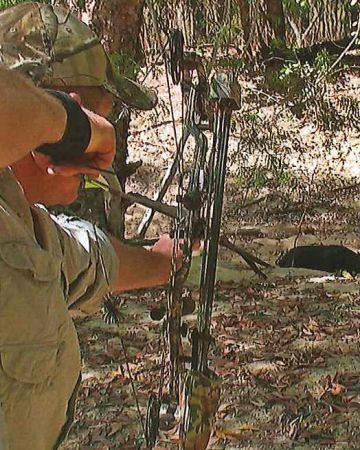 It would be seven long months before I was back on Strathburn again. Just passing through but I was keen to meet Alisdair who was about to begin guiding hunters onto the many boars that inhabit the sand ridges, creeks and swamps on his brother Rory's property. Alisdair offered to take us to check out a couple of spots. Cooty and I had a day to spare so he didn't have to ask twice. We jumped into a Troopy (which still smelled new I might add).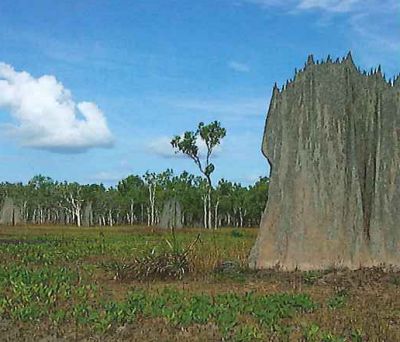 The first boar was encountered no more than five minutes from the homestead and we bumped into plenty more every-where we went. Even though it was late July, the amount of boars and pigs we saw around water along the roads, amazed me and I couldn't wait to get back here to hunt some of them.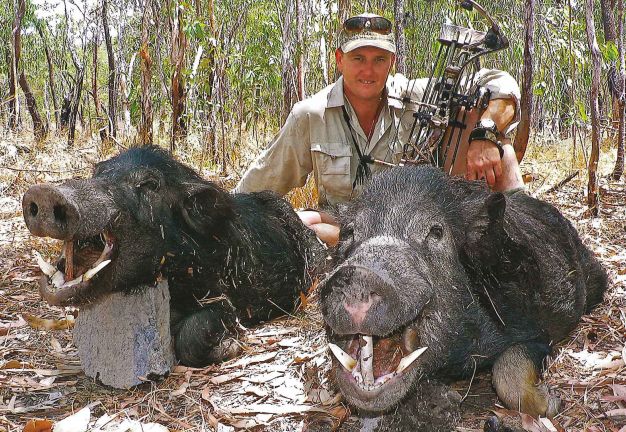 That chance came first week in November, when I booked in for a couple of days with another mate also called Ben. This was Ben's first trip to the Cape and I assured him we would see plenty of boars. Strathburn didn't let us down! We arrived late in the afternoon and Ben arrowed two boars before dark.
The following day we headed out further afield giving Simmo a hand to put out some lick and looked over a few water holes here and there. We knocked over four boars for the day. The next day we were heading further north to hunt and fish with some other friends. We knocked over another three boars on our way out and had the wind spoil us on a couple more.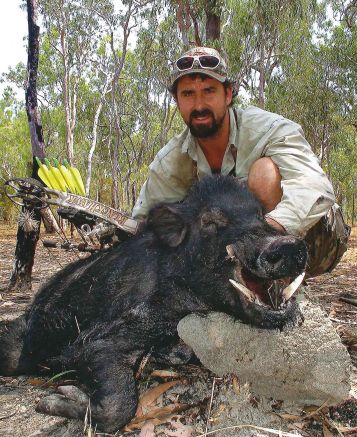 All in all, Strathburn is one of my favourite places to hunt in the Cape. It holds plenty of pigs and some great boars.
Alisdair is a very keen and capable guide who enjoys his job and will strive to find and put you in the areas where the pigs are.
Accommodation and hunting vehicle are very comfortable. So if you want to experience hunting the Cape, give Strathburn a thought.
Call Rory 0414 703 471 or www.stathburn.com for more info.